Comparative Literature (Master)
Master of Arts
Degree Programme Code: 066 870
Duration and scope: 4 semesters / 120 ECTS
Language: German
NO entrance examination
The master's programme in Comparative Literature focuses on the correlations and transfer between the literatures of the "great" Western languages (English, Romance languages, German), the connection between comparative literature and social history of literature, as well as the relations between literature and other media.

» You can find further information on the MA programme below and on the website of Teaching Affairs and Student Services
Curriculum / Study Plan
Link to the complete curriculum / study plan.
Structure of the Master's Programme in Comparative Literature (abridged version):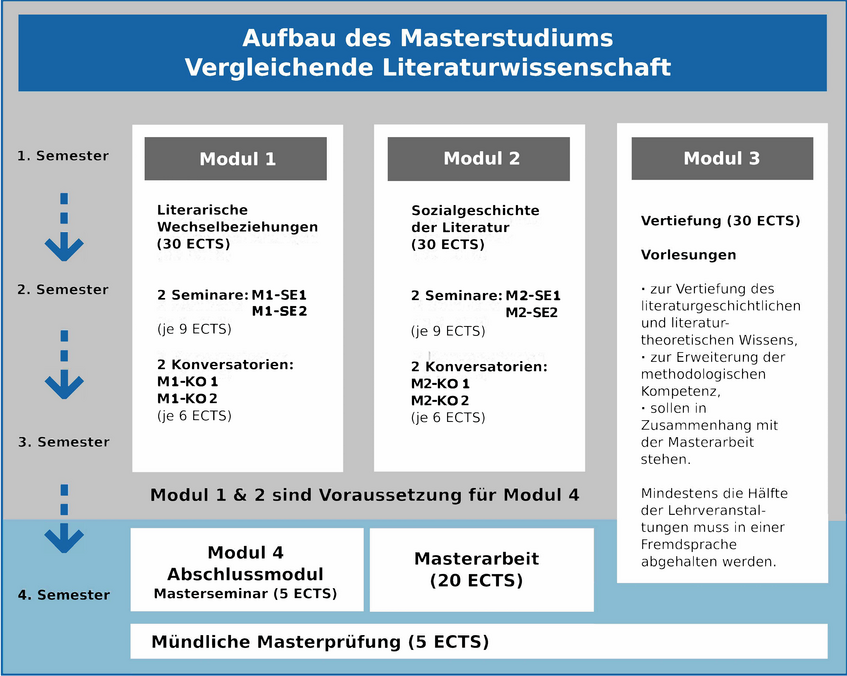 Graduation
As soon as all examinations (modules 1–4) have been completed and appear in the collective certificate (Sammelzeugnis), the MA examination pass can already be handed in for confirmation in the SSS (irrespective of the status of the MA thesis). It is recommended to submit the examination pass early!
To do this, you must hand in the following documents at the StudienServiceStelle (SSS) during opening hours:
the completed examination pass
the collective certificate (Sammelzeugnis) (can be downloaded on u:space)
where examinations have been recognised: certificates of recognition (original)
the submission form – please sign, but leave the date blank
Please check beforehand on your collective certificate whether all examinations appear in the correct study plan point.
The registration of the topic of your master thesis must be submitted to the StudienServiceCenter (SSC) before the thesis is started. The following professors and lecturers are available to supervise Master's theses:
and on request possibly also:
Further information on this as well as on submitting the Master's thesis can be found here.
Please note that the date of the final examination (MA examination or defensio) is also the date of completion of the Master's programme.